Save time, effort and money
with zero hassle!
Stop ad wastage. Monitor KPIs in real-time and optimise
your campaigns with zero delay
Easy to use, Automatically refreshed, Zero Coding required
EasyInsights let you monitor your entire marketing efforts, and help to see how your efforts are drilling down into your end objective in real-time. It lets you identify benchmarks that require optimization and saves a lot of time and cost.
CUSTOMER STORIES
Why businesses choose EasyInsights for their growth
EasyInsights is used by marketers from the world's leading companies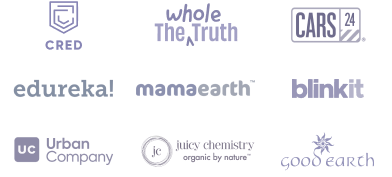 Why do businesses prefer us?
Simple and intuitive UI
With an intuitive UI that has been designed to boost agent productivity, EasyInsights makes it easy for your team to provide support with no distractions.
Easy to set up
EasyInsights' intuitive onboarding process allows your team to continue supporting your customers without requiring excessive hand-holding.
Transparent pricing
EasyInsights' free plan does not come with any hidden charges or under-the-belt add-ons. You can just sign up, get your team on board, and start supporting your customers.