Having marketing data problems?
We have solutions to all of them!
Get rid of Export-hell
EasyInsights collects and normalises data from all common data sources used by marketers. It allows you to see all of your data in one location and provide meaningful insights. Free yourself from routine data export tasks and use the time to develop your strategies.
Business ready data at ease
Analyse and achieve your marketing goals. EasyInsights gives you access to clean, accurate, and granular data from all of your connected data sources. It allows you to quickly generate dashboards that are ready for analysis.
Cross platform - Interconnected data
EasyInsights helps you to combine and group data from various sources. It assists you in making well-informed decisions based on comparable data and provides in-depth analysis and answers to topics that appear to be too abstract to be answered otherwise.
Long term historical data at fingertips
EasyInsights adds data from last two years to your BI dashboards for more in-depth research. It lets you Identify seasonal trends and make data-driven decisions by digging deeper into your data. Never lose sight of crucial conclusions that can be drawn from past data.
Send your data anywhere
With EasyInsights, you can send data to any BI tool in a few clicks. The ability to deliver data to any location allows you to work at your leisure. Create reports and dashboards in any location you prefer, whether it's Google Data Studio, Tableau or Google Sheets.
Secure and Reliable
Your Data security and reliability is our top most priority. EasyInsights is absolutely secure and trustworthy because it uses a standard cloud-based solution and a fully automated system. There is no human intervention in the entire process.
Why do businesses prefer us?
Simple and intuitive UI
With an intuitive UI that has been designed to boost agent productivity, EasyInsights makes it easy for your team to provide support with no distractions.
Easy to set up
EasyInsights' intuitive onboarding process allows your team to continue supporting your customers without requiring excessive hand-holding.
Transparent pricing
EasyInsights' free plan does not come with any hidden charges or under-the-belt add-ons. You can just sign up, get your team on board, and start supporting your customers.
EasyInsights is used by marketers from the world's leading companies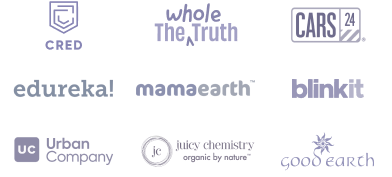 Leverage data
effortlessly with
our Custom
Services