Build Marketing
Dashboards

&

Reports

in Minutes

EasyInsights is the easiest way to combine marketing & business data to get actionable Insights
EasyInsights is used by marketers from the world's leading companies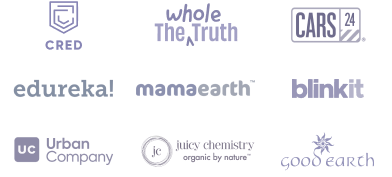 Get rid of Export-Hell
EasyInsights collects and normalizes data from all of the common data sources used by marketers. It allows you to see all of your data in one location and provide meaningful insights. Free yourself from routine data export tasks and use the time to develop your strategies.
Cross Platform - Interconnected data
EasyInsights helps you to combine and group data from various sources. It assists you in making well-informed decisions based on comparable data and provides in-depth analysis and answers to topics that appear to be too abstract to be answered otherwise.
Business Ready data at ease
Business Ready data at ease: EasyInsights gives you access to clean, accurate, and granular data from all of your connected data sources, and allows you to quickly generate dashboards in any Business Intelligence tool of your choice like Tableau, Google Data Studio, etc.
Secure and Reliable
Your Data security and reliability are our top most priority. EasyInsights is absolutely secure and trustworthy because it uses a standard cloud-based solution and a fully automated system. There is no human intervention in the entire process.
EXPLORE DATA THE EASY WAY
Insightful, actionable, and business-ready data
CUSTOMER STORIES
Why businesses choose EasyInsights for their growth
Leverage data
effortlessly with
our Custom
Services