Take control of your data and
scale your digital efforts with
CAPI
Let's boost your ROI. CAPI helps you connect all your server data to ad platforms in a direct and reliable manner, reducing cost per action (CPA), optimising campaigns at the latter stage of the customer's journey and arresting the effects of data loss through the browser - pixel tracking.
Conversion API
CAPI : The Future of Analytics
The focus on the user's privacy has become the focal point in recent days. The most terrifying thing a marketer can face is the loss of data through browser - pixel tracking due to dynamically changing privacy policies.
The end of the digital tracking era is approaching, and conversion API can help us glimpse the light so that you can make your digital efforts successful. It's time to embrace the CAPI along with the pixel based tracking to boost your ROI.
CAPI Implementation
Conversion API
Implementation
Scale your digital efforts with CAPI
Improved data measurement
CAPI enables the facility to make your backend data as the ultimate source of truth.
Better cost per result
CAPI enables the facility to make your backend data as the ultimate source of truth.
Leveraging First Party Data
CAPI provides an alternative route leveraging first part data and keeping your campaigns performance intact.
Increased Data Control
CAPI allows you to choose the time and the parameters you wants to send to the ad platforms.
CUSTOMER STORIES
Why businesses choose EasyInsights for their growth
EasyInsights is used by marketers from the world's leading companies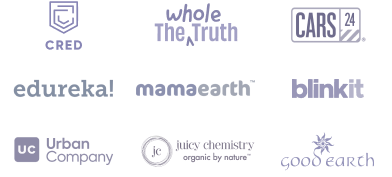 Why do businesses prefer us?
Simple and intuitive UI
With an intuitive UI that has been designed to boost agent productivity, EasyInsights makes it easy for your team to provide support with no distractions.
Easy to set up
EasyInsights' intuitive onboarding process allows your team to continue supporting your customers without requiring excessive hand-holding.
Transparent pricing
EasyInsights' free plan does not come with any hidden charges or under-the-belt add-ons. You can just sign up, get your team on board, and start supporting your customers.