Reading Time:
6
minutes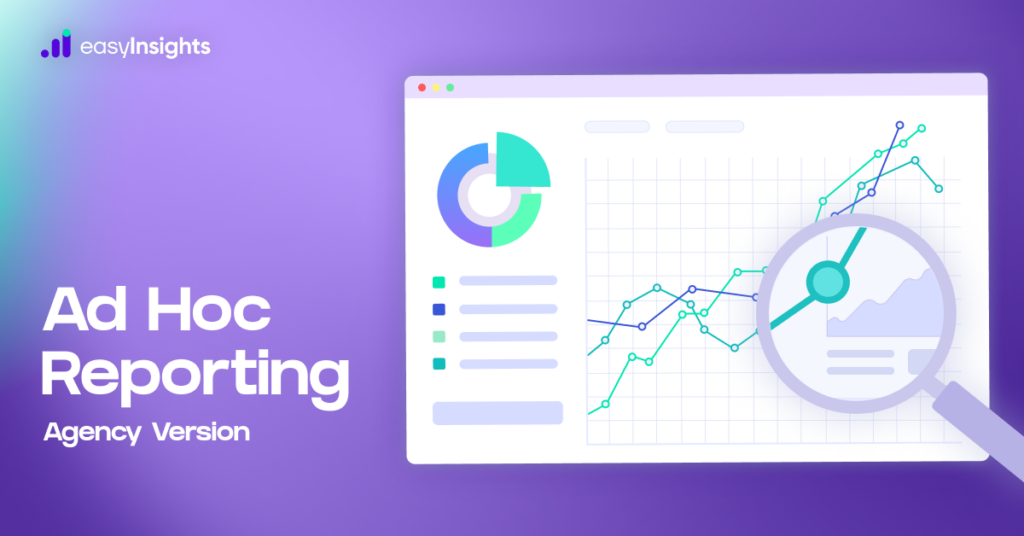 How much data is too much for data-driven marketing?
53% of marketing professionals believe that there is no such thing as "too much data." No wonder, then, that your team spends most of its work hours creating detailed marketing reports and dashboards for clients.
The thing is, the regular reporting and analyses agencies deliver are no longer cutting it for clients. Today, they expect agencies to provide ad-hoc reports with interactive dashboards and custom KPIs for getting accurate insights into different campaigns.
According to Forbes, around 78% of organizations consider ad-hoc reporting and analysis an inseparable part of business intelligence. This means teams today need to be well-equipped to meet the demand for ad-hoc reporting, in addition to routine performance reports.
This blog will tell you all about ad-hoc reporting, how it helps marketing agencies, and how you can set it up at your agency.
What Is Ad-Hoc Reporting and Analysis?
Ad-hoc, literally, means "for a particular purpose" (Latin).
For a marketing agency, an ad-hoc report is a report made on the request of a client. Such reports are often meant for one-time use and answer a client's specific marketing question(s).
Here are some common ad-hoc analyses marketing agencies perform on demand for clients:
1. Financial Analysis
The most common ad-hoc report clients request from agencies is a financial and RoI analysis. This is used for identifying channels with high RoI and deciding budgets for future marketing campaigns. Marketers gather all marketing metrics and create a custom report showing how their efforts generate RoI across different channels.
Unsplash
2. Campaign Performance Analysis
Campaigns like PPC or organic keyword ranking see spikes and drops based on how you change your strategy or how search engines modify their algorithm. Whatever the case may be, clients rely on you to provide them with a quick analysis of how specific changes, internal or external, affect their campaign.
3. Marketing Opportunities Analysis
As your client's business grows, they are more likely to take your assistance in finding new marketing opportunities. They may need your help finding new audiences to market their product to or increase their presence on a new social platform. In such cases, agencies create ad-hoc reports to identify new areas and assess their scope of growth and profitability.
4. Inventory Analysis
Clients that sell physical products often ask their agencies to provide inventory analysis reports to understand the demand for their products. They may want to know which page/s of their websites attracts more visitors or may need a list of their top products. You can use your analytics dashboard to gather these data for creating ad-hoc reports.
How Are Ad-Hoc Reports Different from Others?
Here are other marketing reports and dashboards agencies rely on:
Static/structured reports
Business intelligence reports
Ad-Hoc vs. Static Reports
Static reports are performance reports that you share with clients routinely. They are consistent in the pattern they follow or KPIs they measure, hence the name – structured/static reports.
Static reports use data visualization to inform clients. However, they are static, and your clients cannot deep-dive into each segment of the table or graph – some of their questions may remain unanswered.
On the other hand, ad-hoc reports are dynamic reports. Their format and KPIs vary depending on the analysis requested by the client.
Ad-Hoc vs. BI Reports
Business intelligence or BI reports measure metrics related to a client's finances. They track revenue, gross profit, and net income to assess whether a business is achieving its financial objectives. BI analysts prepare these reports using data to help organizations make effective business decisions.
Ad-hoc reporting is part of business intelligence reporting but is suitable for non-technical users. These reports are created using ad-hoc reporting tools that allow even marketing agencies to create BI reports without requiring an expert data analyst.
What Are Some Challenges of Ad-Hoc Analysis and Reports?
You must consider the following challenges before implementing ad-hoc analysis and reports at your agency:
1. Numerous Data Sources
Creating an accurate ad-hoc analysis means collecting data from Google Ads, Facebook Ads, marketing automation, CRM, and countless other sources. Collecting and organizing your marketing data for your ad-hoc reports will be a nightmare if your marketing data is siloed.
To smooth over these issues, invest in an ad-hoc reporting solution that can integrate with different data sources and make all information readily available for analysis.
2. Inconsistent Data
Agencies also face the challenge of maintaining data consistency while creating ad-hoc reports and analyses. Inconsistencies in terms of data sources and metrics lead to confusion and delays in the decision-making process.
For accurate ad-hoc reporting, ensure that your team and the client's team use the same data and measure the same metrics in their analysis.
3. Data Illiteracy
Even though your team will use an ad-hoc reporting tool to generate reports, they still must be well aware of the data they are working with and know how to use it to extract actionable insights.
Besides, these reports will only be helpful if your clients also understand the data. Make your clients aware of the data you use and help them understand your reporting.
Why Do You Need An Ad-Hoc Reporting Tool?
Clients today expect agencies to provide ad-hoc reports on short notice. Without the right tools, your team must manually scavenge relevant data, organize it, and then extract insights – costing you valuable time.
Even if your team was already working on a client's routine reports, the ad-hoc report might need data from sources that fall outside the scope of static reports.
To respond to your clients' report requests swiftly, you need an ad-hoc reporting tool. With a tool like EasyInsights, creating ad-hoc reports with diverse data sources takes only a few minutes.
EasyInsights is an intuitive data intelligence software that allows you to collect data and KPI metrics from advertisement, analytics, and CRM platforms into BI tools of your choice. You can then select individual channels, columns, and date ranges to filter data to find answers to all your marketing questions.
How to Set Up Ad-Hoc Reporting With EasyInsights
Gathering all your data and metrics from different channels and platforms into BI tools is a convenient way of creating ad-hoc reports. Here's how you can set up ad-hoc reporting with EasyInsights.
Sign in to EasyInsights and connect all your ad, analytics, CRM, and sales platforms with a single click.
Once you have logged in to the EasyInsights, select the platform from which you want to import data. Choose KPIs and time periods.
Now that you have the data, you can build custom dimensions and metrics as per the need of your client.
Here is the best part. EasyInsights automates reporting and dashboarding by its auto refresh and scheduling emails features with interactive data snippets.
That is it. Setting up ad-hoc reporting and analysis is a matter of just a few clicks with EasyInsights.
Final Thoughts
The abundance of business data has allowed companies to move past the usual KPIs of static reports and get more accurate answers to their marketing questions.
Ad-hoc reporting is a powerful tool for agencies to help their clients with marketing decisions – through interactive marketing reports and dashboards.
Using tools like EasyInsights, you can collect data from different platforms, measure custom metrics, and provide actionable insights to help your clients make data-backed decisions to grow their businesses. Visit the EasyInsights website today, and sign up for a free demo.