Reading Time:
6
minutes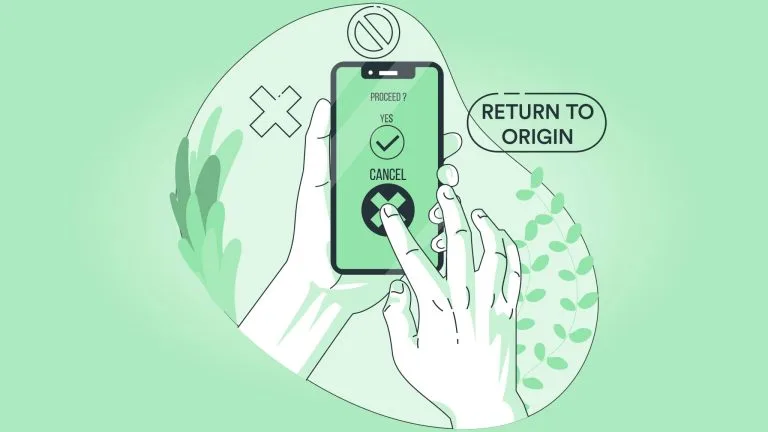 Just getting a new order on your eCommerce website does not equate to a successful sale. The product ordered needs to go through quality checks, packaged properly, shipped to the right address, and most importantly — the customer should like it.
The big problem with selling products online is that the customer doesn't get to see in real-life or inspect it properly. That is why it isn't surprising to know that 30 percent of all products that are ordered online end up getting returned as opposed to only 8.89 percent that are bought from brick and mortar stores.
That is why, before you even try to calculate your overall revenue and ROI, you need to take Return to Origin (RTO) rate into account too. In this article, we discuss everything you need to know about RTO and why it is so important for businesses.
Click here to learn about the best tools in the market to reduce your RTOs.
What is RTO?
RTO or Return to Origin is when a placed order either cannot get delivered or is returned by the customers and has to be shipped back to the warehouse. In simple words, RTO refers to the non-deliverability of the order and its return to the seller's address.
RTO includes extra costs for shipping the returned product back to the warehouse and then repacking and shipping it to another customer who might order the product again.
Here are some of the ways eCommerce companies can lose money with returned orders:
Blocked inventory when orders are stuck in transit
Excessive costs for both forward and reverse shipping
Manual quality checks and repackaging of the returned products
Extra operational costs required in processing every order even if they are returned or canceled
Increased probability of products getting damaged or broken as they are shipped back and forth
RTO is calculated as
Why is RTO so important?
1. Calculate accurate ROI
The ROI for all the placed orders in your CRM or analytics tool is not an accurate ROI because it is only based on all the orders that were placed. It does not take into consideration all the canceled and undelivered orders which can often lead to excessive costs for the company. The wrong ROI can then lead to wrong CAC and CLTV values which can, in turn, cause a huge problem for your business.
By calculating RTO, you get access to accurate and effective ROI which gives you a real representation of how your business is performing.
2. Estimating shipping charges
When you are estimating shipping charges for your products, you also need to take into consideration the return shipping charges which you might have to incur in case the order isn't delivered successfully or returned by the customers.
In case an order is returned back to the warehouse, you would essentially have to pay for shipping three times:
1. Sending it to the first customer
2. Reverse shipping to get the product back to the warehouse
3. Shipping it to a new customer
Taking the average RTO rate for your business in consideration can help you accurately estimate shipping charges and ensure you are always achieving optimum ROI for every order.
3. Analyze which products perform better than the others
Calculating RTO for your business and segmenting it according to products can help you analyze which products are received well with the customers and which products are usually returned the most. You can then identify the issues that make customers return some products more than others, which can include anything from the quality of the product to the fact that it looks different on your website than it does in real life.
Moreover, you can also segment the RTO rate according to the location/cities to see which pin codes often lead to the most undelivered orders and discuss the problems in delivery with your logistics partners.
How to reduce the RTO of your business
It's clear that the lower your RTO is, the higher your business ROI will be. That is why it's important to consistently take steps to reduce ROI as much as possible. Here are a few ways you can do that:
1. Improve product quality
One of the main reasons why products get returned is because customers are dissatisfied with the product quality. That is why, the first thing you should focus on is improving the quality of the products, especially the ones that get returned more than the others. Start by making a list of the top 10 products which have the highest RTO rate and then looking at the customer reviews to see why they disliked the product.
More importantly, you should also ensure your website has all the product details that the customers would need to make informed purchase decisions. It is common for customers to return products if the descriptions and images available on the website.do not match with the actual products.
2. Incentivise pre-paid orders
While the average eCommerce return rate for all orders is 20 percent, it jumps up to a whopping 40 percent for COD (cash on delivery) orders. That means for every 10 COD orders you send out, 4 will be returned on an average.
This high return rate can be due to many reasons including:
Non-genuine buyers who placed an impulse order on a whim with no intention of actually paying for it
Buyer dissonance that sets in after the order is placed. If customers don't want to buy a product after placing it, they don't have to go through a lengthy return process, all they have to do is refuse to take the package when it's delivered
The customer is not at home when the package is delivered. Since COD requires payment at the time of delivery, the logistics partners cannot leave the package at the door or with someone else
The customer may not have the exact cash at home when the delivery is attempted
While COD is a good payment practice which has helped increase eCommerce adoption in countries like India, it has to be used and implemented sparingly/correctly in order to reduce RTO and improve ROI. Incentivising pre-paid orders via discounts, cashbacks or COD fee will help you in increasing the percentage of pre-paid orders. Also with the rise of online payment methods via e-wallets and UPI, prepaid orders have become more convenient and hassle free compared to traditional COD orders.
3. Identify your most important customers
By stitching RTO data with your CRM data through an end to end marketing analytics tool like EasyInsights, you can identify the customers with the least RTO rate and target them specifically with special offers and deals to increase their CLTV. You can also identify customers with the maximum RTO rates to understand their main issues and problems with your products.
Ready to analyze RTO with EasyInsights?
Book a Demo and see how EasyInsights can help you in calculating RTO and increasing ROI in just a few clicks.