Reading Time:
8
minutes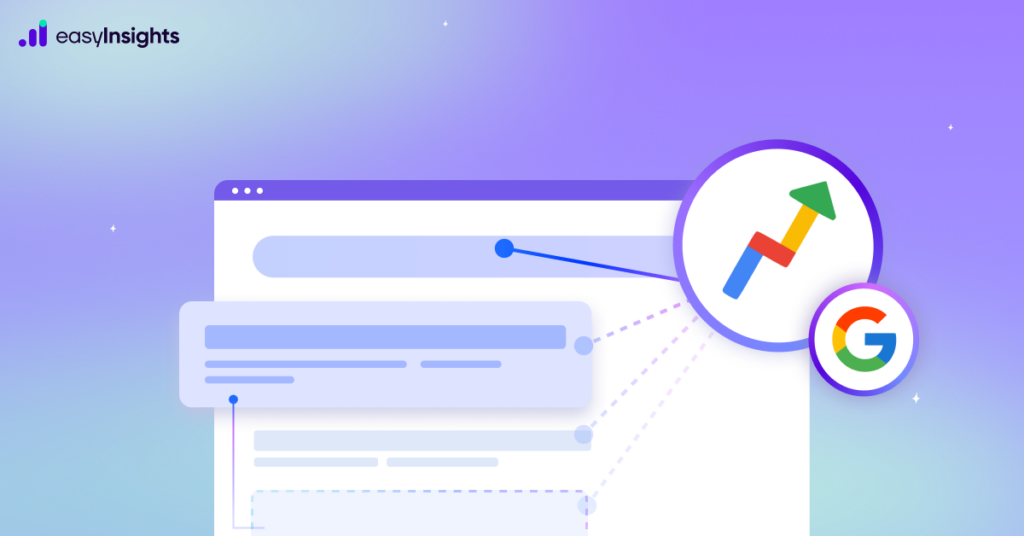 Google Trends is a surprisingly helpful tool for keyword research, especially when using advanced search options that are almost invisible. Paid SEO tools, unlike Google Trends, provide keyword traffic volume numbers. However, those figures are only estimates based on a combination of internet traffic data providers, Google Keyword Planner, scraped search results, and other sources. The clickstream data is typically derived from anonymized traffic data collected from users. The SEO tools then perform a calculation based on their best guess of how the data correlates with Google keyword search and traffic volume.
So, while paid SEO tools estimate keyword traffic, the data presented by Google Trends is based on actual search queries rather than educated guesses. In addition, other functions in Google Trends can help with the accurate segmentation of keyword data, which can help with understanding what geographic locations are best for promotional efforts and discovering new and trending keywords.
We can discover seemingly endless ways to gain more keyword search volume insights by exploring different Google Trends menus and options. This article will teach you new ways to harness the power of one of Google's most important SEO tools.
Also Read: ChatGPT for SEO: 20 Ways to Leverage ChatGPT in Your SEO Activities
How to use Google Trends for SEO?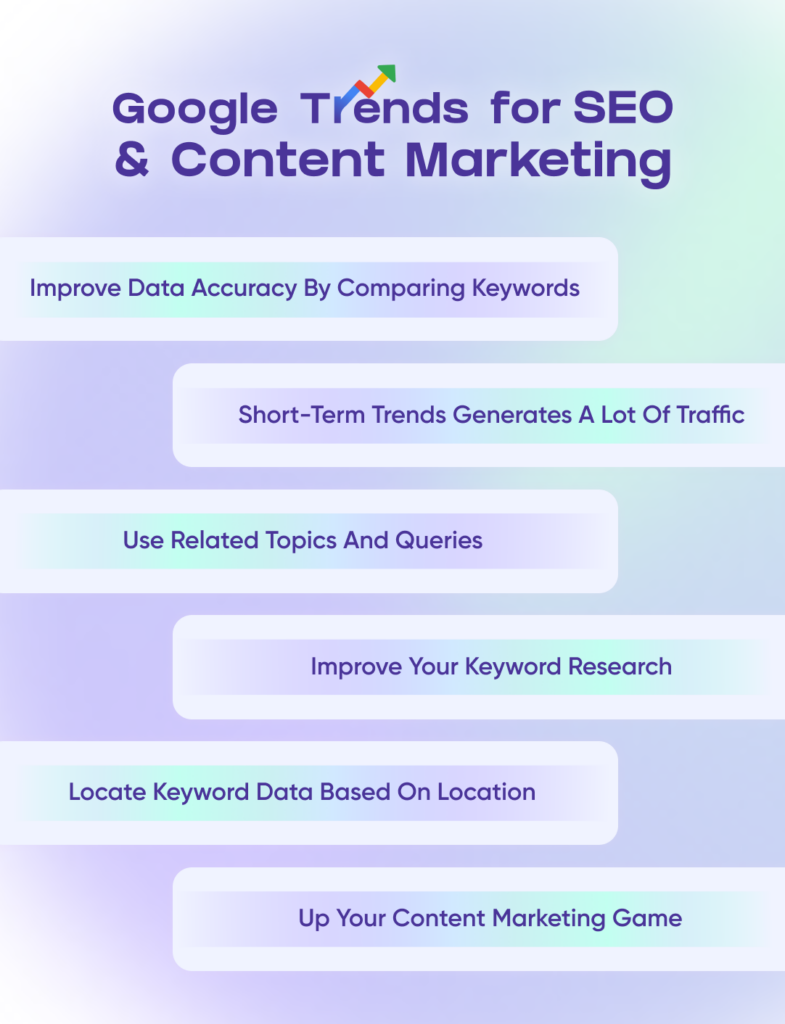 Google Trends is an excellent tool for SEO support via niche content planning. Enter the keyword you want to follow and learn how many people are talking about it and other closely related topics. This enables you to create a highly customized SEO strategy. Let's look at some ways you can use Google Trends for SEO.
1. Improve Data Accuracy by Comparing Keywords
Google Trends shows a relative visualization of traffic on a scale of zero to 100. Since the graph is on a zero to one hundred scales, you can't tell if the trend is reporting hundreds or thousands of keyword searches. However, relative numbers can be more meaningful when compared to keywords with known traffic levels from another keyword phrase. One method is to compare keyword search volume to a keyword whose exact traffic numbers are already known, such as from a PPC campaign.
If the keyword volume is exceptionally high and you don't have a keyword to compare, there is another way to find a keyword to compare. A comparison keyword doesn't need to be related. It could be from a completely different industry or even the name of a popular celebrity. The general keyword volume data is what matters. Google Trends Daily Trends is a webpage that displays trending search queries. This page is helpful because Google provides keyword volumes in numbers, such as 100,000+ searches per day and so on.
2. Short-term trends can generate a lot of traffic
Finding the right keywords for your paid campaigns is critical to your success. It's also important financially because the sooner you find the right keywords, the sooner you can start profiting from paid ads.
If we limit our bass fishing search to 90 days, we can learn more about what is popular right now. Viewing keyword trends in a shorter time frame, such as 90 days or even 30 days, can reveal valuable insights for capitalizing on rapidly changing search trends. Google Discover and Google News receive a lot of traffic. Google Discover is linked to trending search-related topics. In terms of current events, Google News is the go-to source. Sites that cater to either of these traffic channels benefit from understanding the short-term trends.
Viewing short-term trends (30 days and 90 trends) can highlight specific days of the week when those searches are popular. Knowing which days of the week interest spikes for a given topic can help in planning when to publish certain types of topics so that the content is available when the audience is looking for it.
3. Use Related Topics and Queries
Google Trends has two great features, one called Related Topics and the other called Related Queries.
Topics
Topics are search queries that are related to the same concept. Identifying related topics that are trending upwards can help you understand how an audience or consumer demand is changing. This data can then be used to generate ideas for new content or product selections.
Related Queries
Related Queries are described in the same way that Related Topics are. Top queries are the most popular searches in general. Rising Queries are queries that are becoming popular. Rising Queries data is excellent for staying ahead of the competition.
Google Trends searches can be used for more than just organic search marketing; they can also be used for social media. Building a large social following and consistently producing exciting content to promote takes a lot of work. Google Trends can be of assistance. Using the related queries section, we can identify trending topics and create creatives and copy around them.
4. Improve your keyword research
Organic search is one obvious application of Google Trends for SEO. It can also be useful for keyword research. Since Google Trends is not widely used, you can use it to identify relevant keywords. Best of all, you can examine years' worth of data to determine whether or not a topic is relevant enough to invest time and effort in.
Google Trends allows you to narrow down keyword search query inventory based on category topics. This results in more accurate keyword data. The Categories tab is important because it helps you narrow down your keyword research to the right context. For example, if your keyword context is [automobiles], it makes sense to refine Google Trends to only show data for the context of auto. You will be able to find more accurate information related to the topics you are researching for content within the correct context by narrowing the Google Trends data by category.
5. Locate Keyword Data Based on Location
Google Trends keyword data by geographic location can be used to determine which areas to target for site promotion or to tailor content to specific regions. If certain types of products are popular in Washington, D.C., and Texas, it makes sense to target promotional activity and localized content to those areas. Indeed, because interest is higher in those areas of the country, it may be beneficial to prioritize link-building promotional activities in those areas first.
Keyword popularity data by region is useful for link building, content creation, content promotion, and pay-per-click campaigns. Localizing (and promoting) content can make it more relevant to those who are interested in that content (or product). Google ranks pages based on who is most relevant, so including geographic information in your content can help it rank for the most people.
6. Up Your Content Marketing Game
Google Trends is an excellent resource for discovering new and exciting topics to write about. If you're a writer, you know how difficult it can be to create content that your readers will enjoy and will rank well on Google. Since it tells you exactly what is trending, Google Trends is a surefire way to find good topics.
Best of all, they provide you with specific topics and queries based on popular search terms. If you're writing something time-sensitive, it's critical to choose blog post topics based on trends. If the content is not evergreen, it must be completely relevant to your audience at the time it is published.
It can also help you with your social media content since you can identify the relevant keywords and create content about what resonates with your audience. It also helps in the selection of a webinar topic. You want to reach the right people (those who are interested in what you have to offer) at the right time when you create a webinar. Google Trends can assist you in doing so.
Final Words
Paid tools are generally more useful than free tools. Unfortunately, that is not always the case with Google Trends. This article lists methods for discovering useful search-related trends and patterns that are more accurate than some paid search-related data. What's especially noteworthy is that this article only scratches the surface of all the information available. Identifying trends is essential for all marketers. Your target audience is actively searching for things on Google, no matter what industry you're in, and you need to figure out what those things are. Google Trends is a great place to start. Visit it for more information.
A brief Introduction About EasyInsights
As a marketer you may need to import data from various ad platforms to create a comprehensive marketing report. Investing countless hours each day to collect and maintain data in a Postgres database is a tedious and time-consuming task that results in unnoticeable errors. Logging in to multiple platforms and exporting, transforming, and uploading data to BI tools consumes more than 40% of marketers' time.
This is where a tool like EasyInsights can help! EasyInsights' allows you to fully automate and secure data transfers from any source without having to rewrite the code. It allows you to not only export and load data but also transform and enrich it so that it is ready for analysis. Although you can manually connect the tools, EasyInsights makes it easier to use any BI tool by allowing you to pull data from various data sources and integration tools.
You can connect all your data sources to EasyInsights with a few clicks, and access your transformed business ready data in any BI tool in a flash.
Benefits Of Using EasyInsights
Completely automated: The EasyInsights platform is simple to set up and requires little maintenance.
Real-time Data Transfer: EasyInsights offers real-time data migration so that you always have analysis-ready data.
100% Complete & Accurate Data Transfer: EasyInsight's robust infrastructure ensures dependable data transfer with no data loss.
Scalability: EasyInsights has built-in integrations from all the popular marketing data sources, allowing you to scale your data infrastructure as needed.
Generate Insightful reports: EasyInsights helps in generating useful reports. Use reports on Google Sheets to make faster data decisions, or consume it from your inbox.
Book a demo! Talk to our product expert to automate your daily reports & dashboards within a flash.