Reading Time:
9
minutes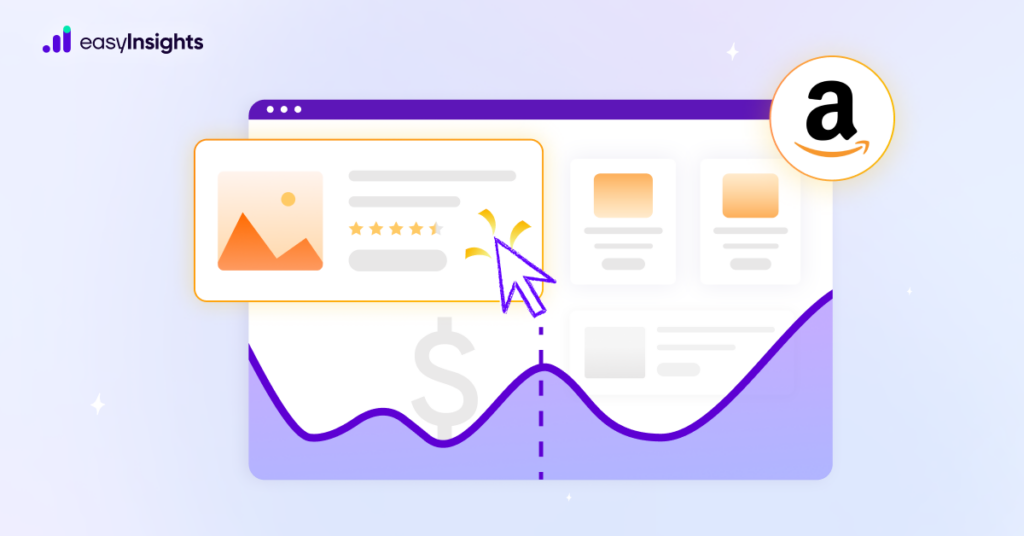 Amazon is the e-commerce platform of choice for brands and third-party sellers looking to grow their business online. Amazon operates in 180 countries and has around 300 million active customers. If you plan to take your business online, Amazon is an excellent bridge between your store and your new online customer base.
But there is a flip side to those numbers. More than 9 million sellers are listed on Amazon, making it a highly competitive marketplace. And if you are not taking additional measures, you will struggle to get noticed by the customers. That is where Amazon PPC comes into play.
This blog will explore what Amazon PPC is, its types, and walk you through steps to create ad campaigns.
Amazon PPC is an advertising platform by Amazon for third-party sellers and brands to advertise their products and business. The advertising platform allows businesses to create campaigns for the brand's Amazon online store. Every time a customer clicks on the ad, Amazon charges a fee from the sellers.
Let us look at how ads on Amazon work with an example.
For instance, customers on Amazon e-store search for smartphones. Amazon collects all ads for brands targeting the smartphones keyword. Then, sellers bid on the keyword, and the seller with the highest bid wins.
Amazon displays the ad of the winning brand at the top of the search results and product pages. And if a customer clicks on that ad, a brand must pay a fee to Amazon.
Why Is PPC Important for Businesses on Amazon?
More people today prefer purchasing products online instead of visiting brick-and-mortar stores. With organic traffic of more than 2.5 billion average monthly visitors, Amazon is the preferred e-commerce platform for businesses to sell and showcase their products.
These numbers make Amazon, a platform of immense growth potential for brands and third-party sellers. But there is a catch. As of March 2021, there are more than 75 million products on Amazon. So, it is easy for a seller to get lost in the crowd.
Customers come to Amazon to browse the online store and purchase the products they like. And over 50% of the time, they buy the first product they see on Amazon SERP. Amazon PPC allows you to promote your products using display ads at the top of search results. As a result, it boosts online sales and improves your organic ranking for a keyword.
Additional Read: Tips and Tricks: 6 Best Tactics for Ecommerce Marketing
What Are Some Types of Amazon PPC Ads?
Amazon allows businesses to run three kinds of ads on its platform:
1. Sponsored Product Ads
Sponsored Product Ads are the most popular ad type sellers use to advertise on Amazon. These ads allow you to promote your products at the top of organic search results and on the product listing page. The products that appear in listings through these ads bear a "Sponsored" tag. You can set up two types of Sponsored Product Ads – Automatic and Manual Targeting.
2. Sponsored Brand Ads
Sponsored Brand Ad type is available only to brand-registered sellers. They allow businesses to showcase products using ads that carry the brand's logo, tagline, and a collection of the brand's products. These ads are available in three formats – product collection, store spotlight, and videos.
3. Sponsored Display Ads
Sponsored Display Ads help brands target customers on different platforms and stages in their buyer's journey. These ads are displayed on websites and mobile apps like Facebook, YouTube, etc.
How to Create Amazon PPC?
If you are just getting started with Amazon PPC, you should begin by setting up a Sponsored Product Ads campaign because you can target specific keywords and products. Besides, you can also set your bids and daily ad budget, allowing you to optimize your ad spending and improve your return on investment (ROI). Here is how you can do it:
Step 1. Sign in to your Amazon Seller Central account, head to the Advertising tab, and select Campaign Manager.
Step 2. Click Create Campaign and select Sponsored Products.
Step 3. Name your campaign, enter your daily budget, and set the campaign's duration. The higher budget you set, the faster will be the ad data collection allowing you to optimize your ads and boost revenue.
Step 4. Then, you have the option to select the targeting type as Manual or Automatic.
Automatic Targeting relies on Amazon's algorithm to decide which keywords to target for your campaign. Amazon automatically changes your bids to improve audience targeting and conversion based on consumer behavior data it collects. On the contrary, Manual Targeting allows you to select keywords for your campaigns. For this, we will stick with manual targeting because automatic targeting can often target irrelevant keywords, reducing your campaigns' efficiency.
Step 5. In Campaign Building Strategy, you can select how to bid for a keyword. You have three options:
Dynamic bids – down only: When Amazon determines that a click is less likely to result in a conversion, your bids are automatically reduced.
Dynamic bids – up and down option: If Amazon estimates that a click is more likely to result in a conversion, your bids are automatically boosted. Similarly, bids are lowered if a click is less likely to convert.
Fixed bids: The bids do not change irrespective of conversion chances.
Step 6. Next, you need to create an ad group. You can create multiple ad groups in a single campaign, so choose a distinct and easily recognizable name for each ad group.
Step 7. Select the product you want to advertise. You can only promote one product per campaign.
Now you have the option to choose the campaign targeting type in the Targeting section. You can choose between Keyword and Product targeting. Keyword targeting allows you to target keywords that customers use.
In contrast, Product targeting allows you to target specific products and brands with your ads. Product targeting ads appear only on product detail pages for the products you target. These may include your products or a competing one depending on the strategy you choose.
Sponsored Product Ad Campaigns with Keyword Targeting
If you select Keyword targeting, these are the next steps to follow:
Step 8. You need to choose the amount you will bid for each keyword.
Step 9. Now, select the keywords that you want to target. You can use the keywords from Amazon's suggestions or provide keywords you have researched by clicking Provide your own.
Step 10. The next step is optional, but it is good practice to complete it. The section Negative Keyword Targeting allows you to select keywords you do not want to target. These could be low-performing keywords or keywords irrelevant to your product.
Step 11. At last, click on Save and Finish.
Sponsored Product Ad Campaigns with Product Targeting (Continued from Step 7)
Here are the steps for Amazon PPC with Product targeting:
Step 8. Set the default bid for your campaign.
Step 9. Click on Individual Products to select products to target. Again, you can choose products either from Amazon's suggestions or add your own list. To add your own list, copy the product ASINs and paste them into the text field under the Enter list section.
Step 10. Like Negative Keyword Targeting, you must set up Negative Product Targeting. But here, instead of keywords, you select products and brands you do not want to target. This ensures your ads will not appear on the product details pages of the selected products.
Step 11. Click Save and Finish.
That's it. Your first Amazon PPC campaign will be live, and ads should begin to appear shortly.
Wonder why Negative Targeting is important? It allows you to control when Amazon displays your ads. And as you know, Amazon charges a fee for each click on your ad. So, by not displaying ads for specific keywords and products, you save your budget for better advertising opportunities.
Additional Read: Is Affiliate Marketing Worth Pursuing?
Which Tools Are Used for Amazon PPC?
Keywords and product ASINs are the most critical aspect of Amazon PPC. Initially, you can rely on Amazon's default suggestions to gather keyword and ASIN data and understand how ads work. But to boost your advertising ROI, you must do your own research. And for keyword and ASIN research, you need specialized tools tailored for Amazon PPC. Some of these tools are:
Helium 10
Helium 10 is an eCommerce suite that comes with tools for businesses to manage and sell products on Amazon. It also helps you identify profitable product ideas, find keywords, and optimize product listings. Besides, you can also track your ad campaigns and manage customer reviews and follow-ups. Helium is a paid tool but offers a free plan with limited access.
Jungle Scout
Jungle Scout is a research tool geared toward Amazon sellers. It helps you find successful products, forecast sales, research keywords for your campaigns, and perform competitor analysis using its intuitive dashboard. Unlike Helium, Jungle Scout does not have a free plan but offers a 7-day money-back guarantee.
Google Keyword Planner
If you are just beginning with Amazon PPC but do not want to invest in Amazon PPC tools, you can use Google Keyword Planner for keyword research. Make sure you have Google Ads set up, and you can perform keyword research. But Helium and Jungle Scout will give you more Amazon-centric keyword data than Google Keyword Planner.
Sellics
Sellics is another e-commerce software for Amazon seller software that also includes Amazon PPC management tools. With Sellics, you get tools for automated bid management and keyword optimization. You also get campaign analytics to optimize your PPC campaigns for better ROI.
Ad Badger
Ad Badger allows you to automate and monitor your Amazon PPC campaigns. With Ad Badger, you get bit optimization and account navigation tools. Ad Badger's keyword research tool also includes tools for finding negative keywords for your campaigns.
Additional Read: 6 Ways to Use Google Trends for SEO & Content Marketing
What are the Most Important Metrics to Measure Amazon PPC?
To improve the effectiveness of your Amazon PPC, you must regularly track your campaigns' performance and optimize them for better results. Here are some essential Amazon PPC metrics to measure:
Impressions and Clicks
Impressions tell you the number of times Amazon displayed your ads. Clicks show the number of times customers clicked on your ads. If impressions are high, but clicks are low, then you are not targeting the right audience. If your clicks are high but sales are low, you should improve and optimize your product page.
CTR
Click-through Rate (CTR) measures the percentage of impressions that result in clicks. CTR equals the number of clicks divided by the number of impressions.
ACoS
ACoS, or Average Cost of Sales, is a crucial metric showing the average cost of sales generated from your ad campaign.
ACoS = Total Money Spent on Ads / Total Sales.
So, for instance, if you spend $5 on ads and make a sale of $25, then your ACoS will be 0.20 or 20%. ACoS helps you determine if the campaigns you have generated are cost-effective and in line with the intent of running your ad campaign.
RoAS
RoAS, short for Return on Ad Spend, measures revenue generated for every dollar you spend on advertising. RoAS is calculated by dividing total revenue by total ad spend.
CPC
Cost Per Click (CPC) is the amount you pay to Amazon every time a customer clicks on your ad. Keywords with high competition usually have a high cost per click, while keywords with less competition have a lower cost per click.
Conversion Rate
Conversion Rate is the metric that shows the percentage of ad clicks that convert into sales.
Fastrack Amazon PPC Reporting with EasyInsights
Data exports and reporting can be a hassle if you manage PPC campaigns across platforms like Google, Amazon, Facebook, and more. But that is not the case with EasyInsights. We designed EasyInsights to eliminate export cycles and automate the process of collecting business and marketing data. You can collect data from different ad platforms under one roof, group it, and transform it for easier analysis. You can also export the data to the BI tool of your choice for visualization and reporting. Visit EasyInsights to request a free demo today.