Reading Time:
8
minutes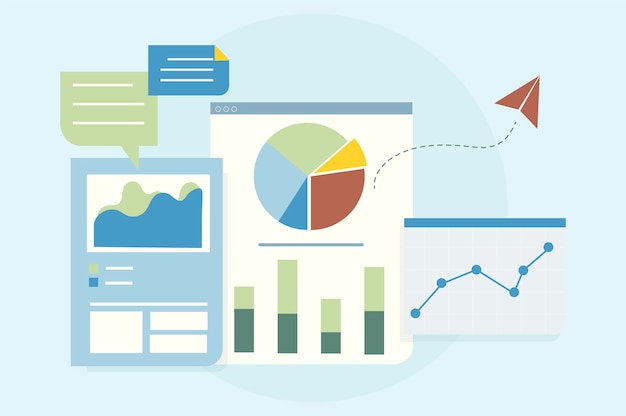 Exporting and accessing raw user-level data from Google Analytics is extremely tricky since the tool only gives you direct access to aggregated data.
While Google Analytics can generate reports about the total number of visitors on a particular day and filter them out by session duration, source, device, and more, it's not possible to get underlying user-level data about every website visitor.
For basic use, aggregated data seems more than enough. It can answer most of the questions that you might have about user behavior. So why do we need to even deep dive into raw data?
That's because the problem with aggregated data is that it's just aggregated — Instead of giving you user-level insights, you get data which is mixed together. It is not possible to analyze how each user interacts with your website. On the other hand, raw data takes a granular approach and gives you access to user-level data which when combined with other CRM or analytical tools can give you in-depth insights about user behavior and in turn help you create more targeted campaigns.
Click here to learn how to export raw data from Google Analytics4 (GA4) to Google BigQuery without any cost.
What are the benefits of getting raw data from Google Analytics?
1. Limited user segmentation
With Google Analytics, you can only create user segments for a period of 90 days at the most. Since you only get aggregated data for 3 months, it can become immensely difficult to understand annual or biannual user behavior trends on your website.
With raw data, you can get access to event logs and create user segments for any customized time period with no restrictions at all.
2. Third-party data integration
You can integrate Google Analytics data with other data sources which will give you a more accurate and in-depth understanding of your user behavior that aggregated data just cannot.
Integrating GA data with other data sources will provide you multiple insights that will be overlooked while analyzing only the GA data. Combining raw GA data with CRM, Marketing platforms(Facebook, Quora, Linkedin, etc.), or Analytics tools(Branch.io, Klipfolio, Appsflyer, etc.) will help you to understand your marketing campaigns at a more deeper level.
See how EasyInsights can export and save your raw data within a few clicks! Sign up for a demo today
How to export raw data from Google Analytics
1. Export data directly from GA panel (pre-saved reports)
The easiest way to export data is to get it directly from the GA panel. After selecting the report, click on the export data option at the top right-hand corner.
Next, you have to select the file format from the drop-down menu. You can choose between CSV, Excel(xlsx), PDF or you can directly export to Google Sheets.
Though this is the easiest way to export it is not advised as
You can apply more than 2 dimensions
Limit of maximum 5000 rows
Issue of data sampling
If you are exporting the data of multiple days or register thousands of hits per day in your GA property due to data being sampled by GA on the property. You can use other methods on the list for unsampled data access from GA.
2. Export data directly from GA panel (Custom reports)
Alternatively, you can also export raw GA data from the custom reports section in the GA panel.
After creating a new custom report, all you need to do is to add dimensions, metrics and filters to the report.
Then you will be able to fetch the data from the report by selecting the report and choosing the extract option, available in the top right corner.
You will be able to add up to 5 dimensions if you fetch data from the custom reports panel. Also you can add/remove metrics as per your requirements.
The limitation of this feature is:
Issue of data sampling will persist if you fetch report for a longer date range
Limitation of x000 rows
3. Use Google Analytics Query Explorer
Google Analytics Query explorer is an interface that lets you construct API queries to fetch data from your Google Analytics account. It is a great way to export data for non-technical users. Great for exploring data, you can fetch data based on various dimensions and metrics. You can export the data as a TSV(which you can change to CSV format) or using an API query. It does not have a limitation of 5000 rows which is there in Google Analytics.
First, you have to select the account, the property, and the view for which you want to fetch the query.
Next, you need to enter the dimensions, metrics, and date range for which you want the required data. You can also sort, segment, or filter based on any dimensions/metrics of your choice.
After that press the 'Run Query' button.
You can export the query using one of the below 3 options:
Share a direct link, so others can run this report for their own data
You can use 3rd party tools such as Klipfolio to export the API query URL bay copy-pasting the URL
Export results as a TSV file, open in Excel or Google sheets
4. Use Google Analytics APIs
Google Analytics Reporting API allows you to integrate analytics data with other applications and build complex reporting. The biggest advantage of using Reporting API is that you can connect applications that might not have direct integration options with Google Analytics.
But exporting raw data through Analytics API isn't as easy as clicking a few buttons. You would essentially need the help of your technical team to install the API code and connect it to your business applications. The right syntax for using the APIs and exporting raw data also depends on the application type and the base programming language it runs on.
But API integration can require a lot of programming, technical support, as well as a considerable amount of time. Moreover, there are limits to daily API requests that you can make which can prove to be challenging for businesses dealing with high volumes of data.
Automate all your marketing dashboards and reports within a few minutes. Book a demo today
Bonus: BigQuery Export for Google Analytics 360
If your company is one of the few that uses Google Analytics 360, the enterprise version of Google Analytics then you can use Google BigQuery to directly export raw data through its in-built integration. There are no data limits when you export through BigQuery. Though it will take some time and programming know-how to get used to the tool since it uses SQL to manage data.
There are two ways you can export raw data with BigQuery:
Daily data export where BigQuery generates one file with all the previous day's data from Google Analytics and three other files with data from the current day
Continuous data export where BigQuery exports data every 10-15 minutes
While it is the easiest way to export raw data from Google Analytics, it is also the most expensive. You have to be a paying customer for both Google Analytics 360 and BigQuery. The charges for Google Analytics 360 start at $150,000 per year. The charges for BigQuery start at $.02 per 1 GB of data.
The problem with exporting raw data from Google Analytics
The main reason why most marketers want to export raw data from Google Analytics is to get deeper insights by stitching its raw data with the extracted data from other marketing analytics tools.
But this is a rather long process which can take you anywhere between a few weeks to months even with numerous complicated steps, including:
Extracting raw data from Google Analytics
Extracting raw data from other marketing tools
Finding a common key between all the data
Stitching the data with an ETL or business intelligence tool
Generating reports and insights from the stitched data
Not to mention you will need people with good data engineering skills on your team who have an in-depth understanding of Google Analytics, JavaScript, SQL, ETL, data stitching, and any other technologies that the other marketing tools are run on. All of this directly leads to increased costs and time at your end with no guarantee of clear results.
EasyInsights: The perfect solution that does all the work for you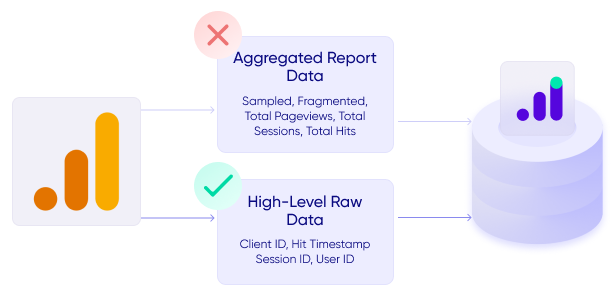 Instead, you can use a tool like EasyInsights which can automatically extract raw data from Google Analytics and other marketing tools and in turn give you access to full-funnel stitched data to drive insights and help you understand customer behavior in a more accurate and granular way.
With EasyInsights, you can:
Easily extract full-funnel stitched data from Google Analytics, Google Search Console, Google Ads, Facebook Ads, CRM apps, and other marketing tools
Data extraction available on Google sheets plugin or on any BI tool of your choice
Track custom metrics and dimensions important for a business like LTV and CAC
Track individual user sessions and journeys
Stitching of data across platforms such as FB, AdWords, analytics, CRM, etc. Providing you with a true and complete picture always
Fetch error-free unsampled data with just a few clicks, in less than a minute
Create dashboards for daily monitoring, generating insights, and taking key marketing actions
Make hourly, daily, weekly unique reports based on requirements, unique with respect to each user persona (CEO, CMO, DM Head, Analyst, etc.)
Create relevant customer segments for budget distribution and retargeting
One-stop view for everyone in the organization for marketing data
Wanna see EasyInsights in action? Sign up for a demo today
Click here to learn how to export raw data from Google Analytics4 (GA4) to Google BigQuery without any cost.