Reading Time:
7
minutes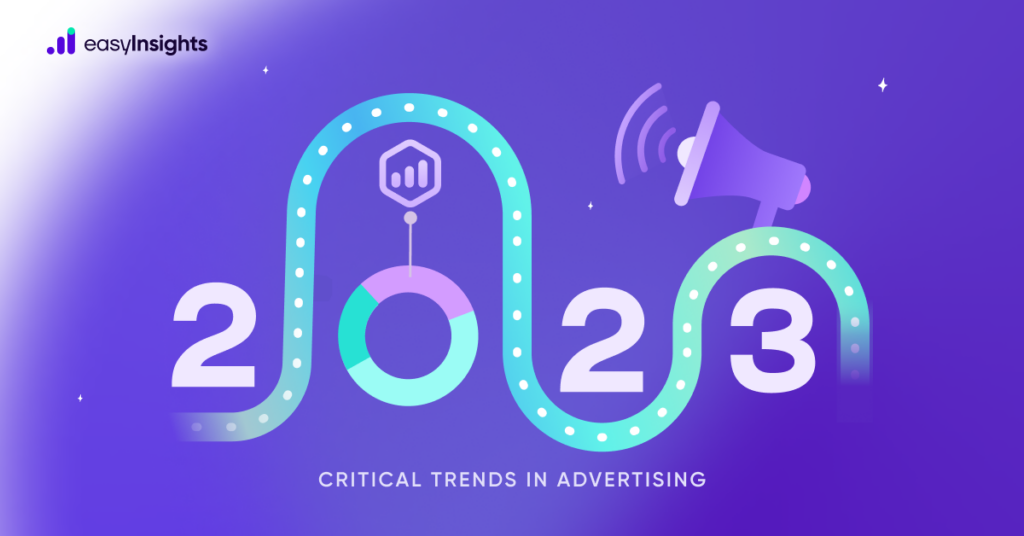 Are you having trouble understanding how your marketing is performing in the current market? You may be relieved to learn that you are not alone. As marketers, we've grown accustomed to adapting to the rapid changes in the advertising industry over the last few years. However, keeping up is becoming increasingly difficult. The pandemic, rising inflation, war, global supply shortages, and a potential recession all contribute to a sense of impending doom—not to mention the upcoming death of third-party cookies and the consequences.
With so many moving parts, we thought it would be useful to map out some of the key factors influencing digital advertising today in order to see what is going on. Hopefully, you'll come out feeling more confident about your next steps in terms of marketing strategy and ad spending. This blog post will concentrate on some macro trends in the advertising industry that every marketer should be aware of. Let's get started.
Macro Trends in Advertising That You Can't Miss.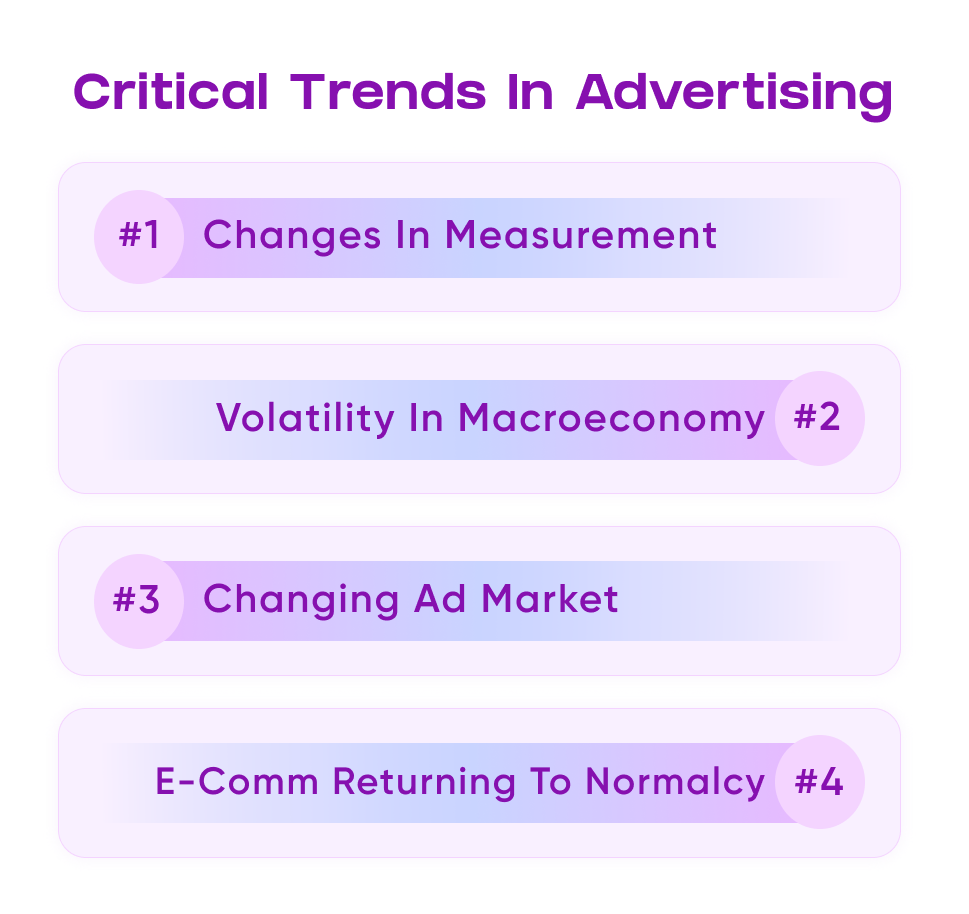 #1 Changes in measurement
Apple's App Tracking Transparency (ATT) broke tracking as we knew it in 2020, causing ripple effects across the market. Apple determined that first-party data is what matters, resulting in consolidating companies across multiple industries.
Furthermore, browsers such as Firefox and Safari restricted third-party cookies, ad blockers became more common, and data transfer laws became stricter. All of these changes have made digital measurement more difficult.
Facebook advertising also saw some changes. What made the Facebook model unique was its ability to convert conversion tracking to targeting and cross-app tracking. They also tracked what you were doing on other apps. Meta could easily find other people with similar demographics because it knew so much about its target audience, who saw an ad and then converted. These are commonly known as lookalike audiences, and they would be shown similar ads, optimizing their targeting and increasing their understanding. Better data for your business comes from better tracking across platforms. Better data leads to better targeting, which leads to a higher return on ad spend (ROAS), as you gain more sophisticated insights into who is converting and begin working more efficiently. As your ad spending increases, the platforms earn more money.
However, due to the new ATT Framework, Apple halted the first step (tracking), limiting everything that follows in terms of data insights. According to Common Thread, an entrepreneur agency, ROAS on Facebook fell by nearly 25% yearly from 2020-21 to 2021-22.
In conclusion, fundamental shifts are affecting digital measurement as we know it. One example is increased user privacy; consumers expect greater control and transparency over how their data is used and stored. Another example is platform changes to address these tightened controls, which impact traditional data collection via third-party cookies and device identifiers. Finally, global regulations dictate how businesses can collect and use consumer data.
Also Read: How To Establish First Party Data Strategies?
#2 Volatility in the macroeconomy
Inflation, war, and general pessimism about the future have resulted in a shift in consumer behavior and demand, making it more difficult for businesses to drive growth. In order to tackle that, companies must now work harder and smarter in their marketing.
Inflation and consumer confidence are important because they influence consumer spending habits, which means advertisers spend differently as well. Simply put, as consumer confidence declines, and so does their willingness to spend money on non-essential goods and services. This makes it more difficult to acquire customers, raising customer acquisition costs and making advertising less effective. B2C businesses are already being impacted, as are their suppliers. Businesses become more cautious when purchasing new products or deciding where to invest their marketing budget as growth slows. The emphasis on efficiency becomes critical.
According to the Consumer Confidence Index, consumers have similar feelings about the current state of the world as they did during the 2008 financial crisis and the onset of covid. This could predict how consumers will behave and their future spending habits, which is critical in determining how companies will optimize their marketing to generate revenue.
#3 The changing ad market
Advertisers naturally follow where people spend their time or where there is clear buying intent. TikTok is becoming an increasingly popular choice for advertisers as consumers spend more time on it (over 90 minutes per day). Something we notice in our customer base. Video ads were previously the most popular form of advertising on YouTube, but they may now be surpassed by TikTok.
Search intent is valuable in addition to time spent on a platform. A person searching for "Adidas sneaker deals" is clearly at a point in their buying journey where they are ready to make a purchase. When you search on Google, you're doing them a favor by telling them what you're interested in, and you're doing it all within one ecosystem – Chrome. Google is the dominant player in this space, but Amazon is rapidly becoming its own search destination. Amazon has surpassed Google as the third-largest digital advertising platform, with $31 billion in ad revenue in 2021.
Walmart and Macy's are also establishing their own ad platforms, following Amazon's lead. Walmart, for example, made $2 billion in advertising revenue, and other companies, such as Uber and Netflix, are also jumping on the advertising bandwagon.
If we divide the 2016 ad market into two categories—E-commerce and Apps on one end and Google search and Display Ads on the other—we can say that Google dominated search and Facebook (including Instagram) dominated display ads until recently.
This remains true for searches, but if you want to buy something online, you go to Amazon. Amazon is now the world's third-largest advertising platform. If you're looking for apps, you go to the App Store, and companies prefer TikTok for display ads. Even if Google remains the king of search, Tiktok is beginning to challenge it as Gen Z turns to Tiktok for answers.
Overall, we're witnessing a significant shift in a previously dominated space by two companies: Google and Facebook. New competitors are challenging the duopoly, with Amazon, Tiktok, Microsoft, and Apple vying for a piece of the digital-ad revenue pie.
#4 Possibility of e-commerce returning to normalcy.
The e-commerce industry is expanding at a different rate than it did during the pandemic. This trend in the digital economy could have been expected to continue, but it appears that the industry is returning to more natural growth levels.
The pandemic did, however, hasten the process of businesses reaching digital maturity. Now that many companies have done so, and as the world faces other challenges besides COVID, the e-commerce industry faces a different kind of new normal.
Following the pandemic spike in 2020, e-commerce is returning to more natural growth levels. It is worth noting that the shift has pushed companies' digitalization to a level of online maturity that they might not have reached as quickly otherwise.
How will all this affect advertising?
The plans of businesses for how to spend their Google advertising budgets appeared to be similar to last year. It is worth noting, however, that Google search excels at capturing high intent. Companies are more likely to reduce display ads, video ads, and brand advertising first, such as billboards, Tiktok, or Youtube.
According to a Gartner survey conducted at the beginning of the year, most CMOs expect their ad budget to remain stable, albeit not at pre-covid levels. Let's see how that changes over the next few years.
What's next?
Hopefully, this blog post has improved your understanding of the current state of the marketing and advertising industries. Now, here are four things to think about as we approach 2023.
We are currently in the midst of a volatile period, which means it is prudent to expect the unexpected. The industry's uncertainty only emphasizes the importance of staying on top of what's going on, understanding your performance, and staying updated by talking to others in the industry. Right now, you should have a comprehensive understanding of the market.
Make sure to zoom out and take in the big picture. Avoid focusing too much on why one particular campaign is underperforming. This will help contextualize your recent performance and highlight what your focus should be moving forward.
See holistic and complete picture of your marketing efforts using EasyInsights.
Forecast and track which data points to keep in mind to help inform your decisions. Better data enables you to make more informed decisions. Create a changeable strategy and maintain an agile mindset to help you navigate it. Because everyone is uncertain right now, adjust your goals as you go. As marketers, we've been in this situation before with major changes like GDPR. Let us not wait for the dust to settle before establishing a new normal. You are capable of handling any curve ball thrown your way.
Automate all your marketing reports and dashboards with in a few clicks. Click here to try EasyInsights today.