Reading Time:
7
minutes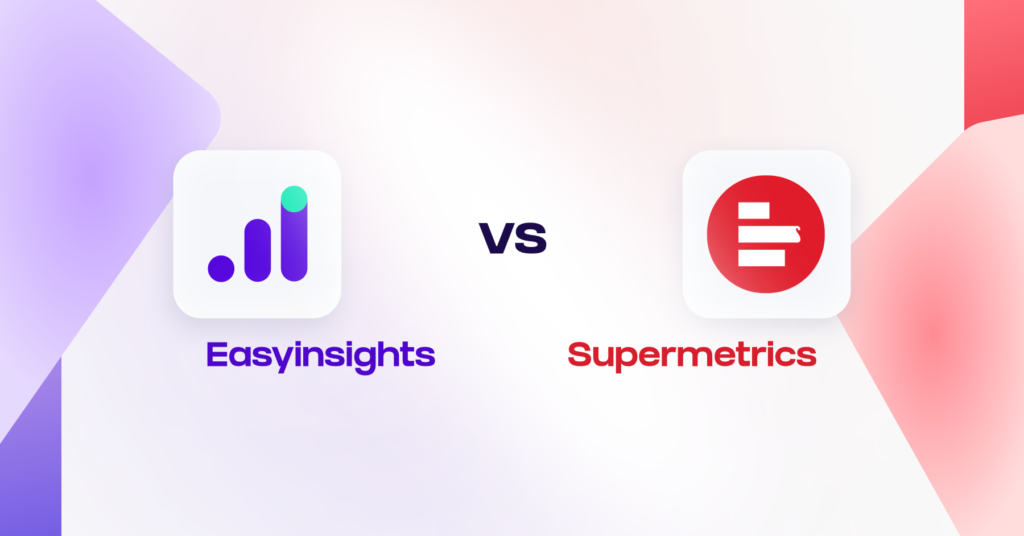 Whether you are a marketer managing an in-house marketing team or an agency of your own, you probably already know that running campaigns across different platforms and aggregating all of that data together can be an ultimate nightmare.
When your marketing data is siloed across numerous platforms, it becomes impossible to attribute sales to a specific marketing campaign. Also, you don't get a complete 360-degree view of your prospects and customers.
Fortunately, there are many tools available online like Supermetrics and EasyInsights that can help automate the data extraction and aggregation process.
Though Supermetrics can only extract data from limited marketing platforms, EasyInsights goes a step further and can extract and stitch data from numerous marketing platforms to give you in-depth insights about your brand's marketing performance.
Supermetrics and EasyInsights both have wide differences. If you want a simple tool that doesn't do more than fetching data from different sources, then you can go for Supermetrics.
But if you want a tool that fetches data from different marketing platforms and stitches it together to give you access to full-funnel stitched data and in-depth insights, then EasyInsights is the perfect tool for that.
Key Differences – EasyInsights and Supermetrics
1. Offering
The main difference between Supermetrics and EasyInsights is that Supermetrics is merely a tool for extracting marketing data into spreadsheets, whereas EasyInsights is an end-to-end data insights platform built for marketers and agencies that can extract and stitch your marketing data to uncover in-depth insights about your business.
It connects data from various marketing channels at the user level to create a single source of truth for your campaigns and provide you with a clear picture of user journeys, leads, and conversions. Other core offerings include Attribution models, Server to Server Integration, Cohort and incremental analysis, Customer Segmentation, Lead Grading etc.
2. Robustness and Relaibility
Supermetrics oftenly fails to process and update data from multiple sources and with a larger data range. It also produces errors when attempting to sync with other platforms. Bugs and glitches can be very frustrating.
Unlike Supermetrics, the data extraction process in EasyInsights is very smooth. You can easily extract data from multiple sources, transform it, and load it into your preferred BI tools like Google Data Studio, Tableau, Power BI and others. It is a more robust and reliable solution.
3. Speed and Consistency
Supermetrics speed is usually very slow when you work with multiple data sources and larger data range. Reports and Dashboards on BI tools get slow when connected to multiple data sources with larger date ranges.
EasyInsights provides data transformation options within its platform. This helps in analysing your data and getting deeper insights with no lag, and it enables a better reporting and dashboards experience for you and your clients.
Click here to learn how to make your Google Data Studio dashboards faster.
4. Pricing
Supermetrics' pricing is unclear and tricky. The price goes up exponentially as you start connecting multiple data sources and start taking your data to multiple data destinations, i.e., data warehouses and BI tools. Supermetrics does not offer bundles for professionals and agencies. It makes Supermetrics heavy on the budget.
On the other hand, EasyInsights' pricing is flat and clear. It offers bundles for professionals and agencies. The starter pack is free, which makes it useful for small businesses. Agencies can use EasyInsights with all its features for one of their clients for free. These two things make it quite useful in understanding the product and its usage at $0.
EasyInsights' world-class support team is available 24 hours a day, 7 days a week to assist you with anything you require. It provides the kind of assistance that no other option can. We provide a live chat with quick responses and helpful recommendations, a dedicated team to assist you in free report setup, migration, or replication, and personalised training on Google Data Studio, Tableau, and other BI tools.
Click here to book a demo and explore EasyInsights for free.
Comparison Overview
| Features | EasyInsights | Supermetrics |
| --- | --- | --- |
| Extracts data | Yes | Yes |
| Transform Data | Transform data to make it business ready | Slight slicing and dicing is available |
| Load – Data Destinations | All BI tools like Google data studio, Tableau, Power BI etc. including Google sheet | Only Google sheet and Google Data Studio |
| Data Sources | Any data source can be integrated | Specified pre-built data sources |
| Ease of Use | The intuitive user interface makes it much easier to use. | UI makes it quite difficult to use |
| Webhook | Webhook makes the tool much flexible | – |
| Daily Summary Report | Get your business performance on your mail and whatsapp | – |
| Tracks complete user journey | Gives you a complete picture of your users' journey by blending ad platforms with analytics, CRM, and MMPs. | – |
| Cohort and incremental analytics | Talk deeper with your data by using Cohort and Incremental analytics | – |
| Customer Segmentation | We provide customer segmentation. This can be used as a better data signal to your ad platform. It also helps in growing your retention marketing. | – |
| Custom attribution modeling | Choose attribution models that is needed for your business | – |
| Server to Server Integration | Mitigate the effects of privacy policies and send correct signals to your ad platform | – |
| Client Command Centre | See all your clients performance in a single dashboard. This is available for agencies. | – |
| Support | Email, Chat and Call support available | Email support available |
Book a live demo of EasyInsights to learn how the tool can help your company grow significantly through data-driven, more powerful decisions.
Supermetrics
Supermetrics is a simple and straightforward data extraction platform that helps marketers pull data from SEO, social, PPC, and analytics tools. The tool can be integrated with over 40 different platforms including Google Analytics, Google Ads, Facebook Ads, Bing Ads, and Twitter. It can also pull data from different accounts under the same channel for comparison purposes.
Though it's important to note that all Supermetrics does is extract data from a limited list of platforms and imports it into your choice of data storage application including Google Spreadsheets, Microsoft Excel, Data Studio, BigQuery, Uploader, and Snowflake. It is not an analytics or a reporting tool. You will essentially need a separate analytics tool to extract insights from the data pulled through Supermetrics.
Who should use Supermetrics
Supermetrics is only suitable for small businesses that need help collecting data from different sources and don't want in-depth insights about their data. But even then, its price does not justify the limited features that Supermetrics offers.
Here are the main pros and cons of Supermetrics:
Pros
Helpful in extracting granular data from Google Analytics, Adwords, Facebook, and other 40+ platforms
Offers a Google Sheets add-on for easy extraction
Automates data extraction by allowing users to pull data from different sources at regular intervals
Reduces manual reporting time significantly
Easy to use interface
Cons
No direct integration with most BI tools, except for Google Data Studio
Only basic database warehousing solution available(as an ETL service to push data into bigquery). The processing to create deep analyses and insights need to be handled at your end.
No option to build advanced data models like custom attribution, LTV, Lead Grading etc.
Pricing
Supermetrics pricing is a bit complicated and over the place. You have to pay separately for pulling data into different applications. The pricing for connecting Supermetrics for Google Spreadsheet starts at €99 per month. But if you want to extract data directly to Excel, Data Studio, or BigQuery, you have to pay an extra € 39-99 per month for each of them.
Supermetrics further has three separate tiered plans for every tool: Pro, SuperPro, and Enterprise.
EasyInsights
EasyInsights is an end-to-end marketing analytics tool that can extract and aggregate data from any and every marketing platform to generate in-depth reports and in turn, give you a granular view of your brand's overall marketing performance. It can import and stitch data from platforms like Google Ads, Google Analytics, Facebook Ads, CRM tools, and Search Console.
The integrations of the tool run deep, pulling granular data from different platforms to give you access to full-funnel stitched data which can help you track customer journey and behavior in an accurate way.
The major difference between Supermetrics and EasyInsights is that Supermetrics is just a tool that can extract marketing data into spreadsheets, but EasyInsights is an end to end data insights platform that can extract and stitch your marketing data to uncover in-depth insights about your business.
It stitches data from different marketing channels at a user-level to build a single source of truth for your campaigns and give you a clear picture of the user journeys, leads, and conversions.
Click here to book a demo to see EasyInsights in action.
Who should use EasyInsights 
It is great for both ad agencies managing campaigns or in-house marketers who want to get a centralized view of all of their data in one place and drive insights from automated marketing reports and dashboards in order to make better data-driven decisions.
Pros
Easy to use interface
Data is stitched at the user-level which helps in tracking complete user journey across different platforms
Ability to export data to Microsoft Excel
Ability to create and map custom metrics as well as dimensions
Reduces manual reporting time significantly
No developers needed to set up or use the tool
Google spreadsheets add-on for easy reporting and monitoring
Automated reports which can be sent directly to your inbox at any frequency (daily, monthly or weekly)
Seamless availability of deep data models like – custom Attribution modeling, Cohort analysis, Server to Server integration etc.
Cons
Requires a slight learning curve.
Pricing:
Pricing is flat and clear. It has been categorized into four slabs based on the "Time Horizon" and "Workspaces" to cater all businesses. Free, Starter, Expert and Professional with 0, $99, $399 and $599 respectively. Anyone can get started with EasyInsights for free with data from the last 3 days.
Agencies can contact the sales team to get the pricing. EasyInsights is lifetime free for one of the clients.
How to migrate from Supermetrics to EasyInsights?
The EasyInsights team has made this transition as easy as possible by providing proactive support. To begin, you must create a new account on EasyInsights.
We can help you move your data for free. With a few clicks, our team will securely and easily transfer your data. To start, request a free dashboard setup. Our team will contact you to walk you through the process. Visit EasyInsights to learn more about our offerings.